Please scroll down for the English version
Sélection musicale - Qobuz
Les services de musique en ligne ont leurs supporters et leurs détracteurs. Les artistes touchent moins d'argent par écoute d'album, mais d'autres arrivent à sortir du lot et de l'anonymat. Ce n'est pas aujourd'hui que l'on règlera les problèmes inhérents à une sorte de progrès.
En ce qui me concerne, je suis un gros consommateur de musique à travers principalement Qobuz et Bandcamp, et je rencontre toujours un problème de conscience sur l'utilisation de la musique et la rémunération des artistes.
Les productions de qualité sont tellement nombreuses que je me pose le la question de savoir s'il n'y a pas trop de personnes talentueuses sur Terre pour permettre à chacune d'entre elles de vivre convenablement de leur art? Ou peut être n'y-a-t-il pas assez d'auditeurs ayant le temps de les découvrir et les écouter? 
Peut-être que je m'égare un peu trop pour aujourd'hui ;-)
En attendant d'autres réflexions, voici deux albums d'artistes découverts dernièrement, qui ont en commun un mélange de contrôle, rigueur, pureté et poésie, j'espère qu'ils vous plairont.
Guy
---
SLUMB - Reset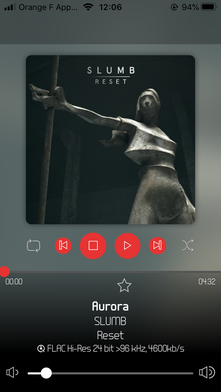 Commençons par le premier album de Slumb, né de la collaboration entre Julien Marchal, pianiste aux mélodies aussi minimalistes que passionnelles, et Senbeï, producteur et faiseur de sons électroniques.
Même si cet album est facile d'accès grâce à la simplicité de ses mélodies aux mix de piano, musique électronique et voix limpide, chaque nouvelle écoute vous fera découvrir de nouvelles émotions et de nouveaux sons.
La complexité du travail musical et les détails d'arrangements sonores s'effacent au fur et à mesure des écoutes pour s'intégrer simplement à la mélodie.
Bel ouvrage et bel album à découvrir sur Qobuz, en qualité CD ou sur Bandcamp.
---
Meryem Aboulouafa - Meryem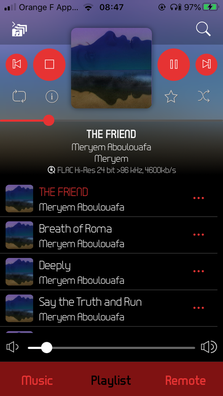 La deuxième sélection de la semaine est également un premier album, celui de Meryem Aboulouafa. Ici, la voix cristalline et envoutante de Meryem prédomine sur les mélodies paisibles et donne l'ambiance mystique et hypnotique de l'oeuvre.
Totalement aériennes et d'influences diverses, les balades modernes de Meryem Aboulouafa sont une invitation au voyage intérieur. Elles ne vous laisseront pas de marbre, que vous les écoutiez les yeux ouverts ou fermés. 
Cet album authentique propose un savant mélange de folk, pop, musique orientale, et musique électronique.
Une belle réussite musicale, à écouter sans modération.
Vous trouverez cet album à l'achat ou en streaming haute définition sur Qobuz ou sur Youtube.
---
English Version starts here
Music selection- Qobuz
Online music services have their fans and their opponents. Artists get less money per album played, but others manage to stand out from the crowd and emerge from anonymity. The problems associated with some kind of progress in music distribution will not be solved today.
As far as I'm concerned, I'm a big consumer of music, mainly through Qobuz and Bandcamp, and I keep facing a conscience dilemma about the use of music and the remuneration of artists.
There are so many high quality productions that I wonder if there aren't too many talented people on Earth to allow each of them to make a decent living from their art? Or maybe there aren't enough listeners who have the time to discover and listen to them? 
Maybe I'm drifting a little too far away for today ;-)
While waiting for other thoughts, here are two albums by recently discovered artists who have in common a mix of control, precision, purity and poetry, I hope you'll like them.
Guy
---
SLUMB - Reset
Let's start with Slumb's first album, the result of the collaboration between Julien Marchal, pianist with minimalist and emotional atmospheres, and Senbeï, producer and electronic sound maker.
Although this album is easy to listen to thanks to the simplicity of its tunes with a mix of piano, electronic music and limpid voice, each new audition will make you discover new emotions and new sounds.
The complexity of the musical work and the details of the sound compositions fade away as you listen to the album and simply become part of the melody.
Beautiful work and beautiful album to discover on Qobuz, in CD quality or using Bandcamp.
---
Meryem Aboulouafa - Meryem
The second selection of the week is also a first album, by Meryem Aboulouafa. Here, Meryem's crystal clear and enchanting voice prevails over the peaceful melodies and gives the mystical and hypnotic atmosphere of the work.
Totally airy and of mixed influences, Meryem Aboulouafa's modern ballads are an invitation to an inner journey. There is no way they will leave you unmoved, whether you listen to them with your eyes open or closed. 
This authentic album is a clever mix of folk, pop, oriental and electronic music.
A beautiful musical achievement, to listen without any restraint.
You will find this album for purchase or in high definition streaming on Qobuz, among others music platforms, or using Youtube.
---
Audio Streamer - Lecteur Réseau
how to enjoy music streaming through a selection of devices