Wattson Audio Emerson
Please scroll down for the English version
Deux pavés dans la marre de l'audio
Avec l'arrivée de Wattson Audio sur le marché des lecteurs réseau et sa gamme Emerson, ce n'est pas un mais deux pavés qui sont lancés dans la marre de l'audio haute fidélité.
Alors que la plupart des fabricants audio proposent des appareils intégrant une multitude de fonctionnalités au détriment de la qualité des composants de base, Wattson Audio se concentre sur l'essentiel et propose deux lecteurs réseau aux qualités d'écoute jusque là inconnues dans cette gamme de prix. L'attention aux détails, l'approche minimaliste très haut de gamme de ces lecteurs réseau audio se concentrent sur les éléments techniques essentiels au meilleur fonctionnement de ses appareils: qualité des composants, carte réseau propriétaire, filtrage interne du courant électrique, horloge interne assurant l'intégrité de la transmission du message sonore, étages de sortie très haut de gamme, optimisation du contrôle de volume et du logiciel interne, sans oublier l'application iOS Wattson Music.
La gamme de streamer audio Emerson est aujourd'hui disponible et la batterie de tests qui leur a été infligée conclue à l'excellence sonore de ces produits. 
Les Emerson partagent le même boitier en aluminium taillé dans la masse et sont construits autour de la même carte de streaming, propriétaire. Ils fonctionnent en respectant les standards UPnP/DLNA et sont capables d'accéder aux services de streaming musicaux Qobuz et Tidal, aux radios internet et à vos disques durs réseau.
Wattson Audio - Emerson Analog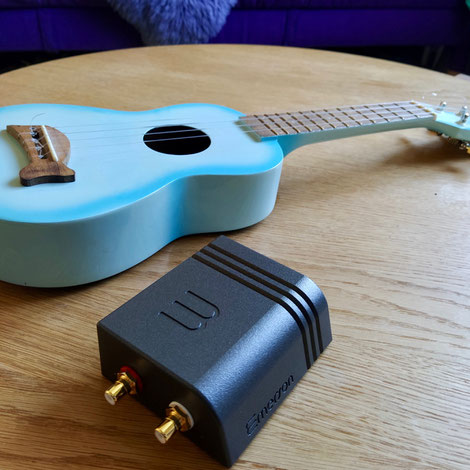 L'Emerson Analog est un lecteur réseau équipé d'un convertisseur numérique analogique Cirrus Logic WM8742 (originalement produit par Wolfson).
Il se connecte à tout système haute fidélité équipé d'entrées audio analogiques standards. On peut également l'utiliser avec des enceintes actives et en contrôler le volume. 
Il est en moment à l'écoute chez Rhapsody Hifi avec des enceintes Genelec G Four, cablé Goldkabel. 
 Caractéristiques techniques:
• Sorties analogiques sur connecteur RCA 
• PCM 24-bit de 44.1kHz à 384kHz, DSD64
• Niveau des sorties (0 dB FS) : 2.0 V RMS
• Rapport signal sur bruit, pondéré : typ. 124 dB
• Distorsion harmonique (THD+N, 0 dB FS) : typ. 0.001 %
Wattson Audio - Emerson Digital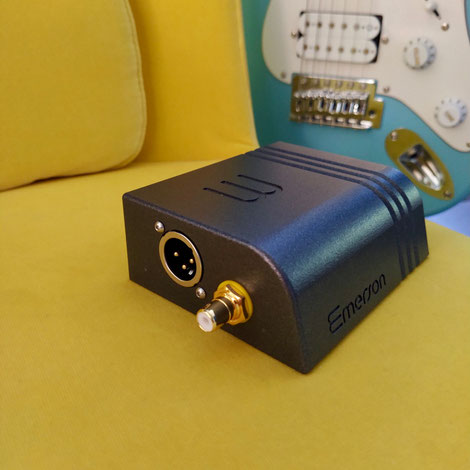 L'Emerson Digital se différencie de l'Emerson Analog par le remplacement du convertisseur numérique analogique par des étages de sortie très évolués.
L'Emerson Digital fait des merveilles avec tout système hifi équipé d'entrées numériques de type S/PDIF ou AES/EBU. Il ajoute ainsi une fonctionnalité lecteur réseau à votre DAC.
Caractéristiques techniques:
• Sortie S/PDIF 75 ohms sur connecteur RCA, avec transformateur d'isolation 
• Sortie AES/EBU 110 ohms sur connecteur XLR, avec transformateur d'isolation
• Résolution PCM : de 44.1kHz à 192kHz, 24-bit
Les Emerson sont disponible à l'écoute, en vente et en stock chez Rhapsody Hifi, Prenez rendez vous et découvrez l'univers sonore de Wattson Audio.
---
The English version starts here
Emerson: Rock the hifi boat
With the introduction of the Emerson audio streamer line, Wattson Audio rocks the hi-fi boat.  
While most audio manufacturers offer devices with a multitude of features at the expense of the quality of the basic components, Wattson Audio focuses on the essentials and offers two network audio streamers with listening qualities previously unknown in this price range. The attention to detail and minimalist approach of these audio streamers concentrates on the technical elements that are essential for the best possible performance of these devices: high quality components, proprietary network card, internal power filtering, internal clock to ensure the integrity of the sound signal transmission, high-end output stages, optimized volume control and internal software, not to mention the Wattson Music iOS application.
Emerson's range of audio streamers is now available and the extensive testing that has been carried out on them has concluded to the sound excellence of these devices. 
The Emersons share the same precision-cut aluminium case and are built around the same proprietary audio streaming card. They operate according to UPnP/DLNA standards and are able to access the music streaming services Qobuz and Tidal, internet radios and your network hard drives.
Wattson Audio - Emerson Analog
The Emerson Analog is a network audio player equipped with a Cirrus Logic WM8742 digital-to-analog converter (originally produced by Wolfson).
It connects to any high fidelity system equipped with standard analog audio inputs. It can also be used with active speakers and control the volume. 
It is currently being listened to at Rhapsody Hifi with Genelec G Four speakers, Goldkabel wired. 
 Technical specifications:
• Analog outputs on RCA Connector
• PCM 24-bit 44.1kHz up to 384kHz, DSD64
• Output level (0 dB FS): 2.0 V RMS
• Signal-to-noise (SNR-A): typ. 124 dB
• Distortion (THD+N, 0 dB FS): typ. 0.001 %
Wattson Audio - Emerson Digital
The Emerson Digital differs from the Emerson Analog by replacing the digital-to-analog converter with very advanced digital output stages.
The Emerson Digital works wonderfully with any hifi system equipped with S/PDIF or AES/EBU digital inputs. It adds network audio streamer functionality to your DAC.
Technical specifications:
• S/PDIF output 50 ohms on RCA connector, with isolation transformer
• AES/EBU Output 75 ohms on XLR connector, with isolation transformer
• PCM Resolution: 44.1kHz up to 192kHz, 24-bit
The Emerson range is now available for listening, for sale, and are in stock at Rhapsody Hifi.
Please make an appointment and discover the sound experience of Wattson Audio.
Wattson Audio dans notre shop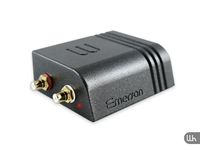 Wattson Audio - Emerson ANALOG
Wattson Audio propose, avec sa gamme Emerson, un concentré de technologie dans un format ultra compact. Les Emerson permettent à votre système haute fidélité d'accéder à votre musique dématérialisée, qu'elle soit stockée sur un disque dur ré ... (
Lire la suite
)
1.499,00 € 1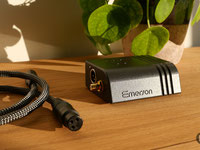 Wattson Audio - Emerson DIGITAL
Wattson Audio propose, avec sa gamme Emerson, un concentré de technologie dans un format ultra compact. Les Emerson permettent à votre système haute fidélité d'accéder à votre musique dématérialisée, qu'elle soit stockée sur un disque dur ré ... (
Lire la suite
)
1.499,00 € 1